Super Shield Ceramic Roof Coating in Brighton, Ann Arbor, Novi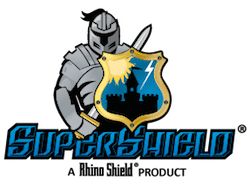 Roof replacement is costly, time consuming and an inconvenience. Super Shield® elastomeric ceramic roof coating can delay or eliminate costly roof repair or replacement. The roof coating improves and protects your existing roof while extending its lifespan. Plus, Super Shield can save you money on heating and cooling costs for your home or business.
Rhino Shield of Michigan is the authorized installer of Super Shield® in the Greater Ann Arbor area. Contact us today to schedule your free on-site consultation and estimate.
Super Shield® Applications
Rhino Shield's new Super Shield technology may be applied to most roofing surfaces including:
Primed metal
Clay concrete
Asphalt
Bonded roof gravel
Slate
Tile
and more
Products
Rhino Shield is a recognized leader in the premium wall coating industry, providing durable and long-lasting ceramic wall coating products.
Super Shield® Roof One Coat
Super Shield® Roof One Coat is a self-priming ceramic elastomeric roof coating. Super Shield® may be used on sloped residential and commercial roofs. The high-build design is ideal for one-coat coverage and protection.
Formulated with a high-resin load, Super Shield® Roof One Coat offers great adhesion without the need of a separate primer. Ceramic microspheres and titanium formulate this coating with excellent reflectivity and thermal insulation. Roof One Coat forms a thick rubber-like membrane that seals out water and expands and contracts with temperature changes and building movement. Along with excellent tensile strength, it will extend the life of roof. The beautiful solid finish helps resist mildew and algae.
The coating is an inexpensive alternative to re-roofing and will help save on cooling costs. Super Shield® may be tinted with Cool Colors™ technology, boosting the solar reflective benefits and resisting fading.
Good for:
Most sloped roofing types

Variety of roofing materials: Concrete, asphalt, primed metal, clay tile, masonry tile, bonded roof gravel, bitumen membranes, aluminum,

Styrofoam, slate, etc.
Benefits:
Extends roof Life
UL Labs certified for reflectivity
More cost effective than roof replacement
Lowers roof surface temperature
Resists mold, mildew, staining
Prevents granule loss
Passes ASTM cold weather flexibility test
10-year warranty
Rhino Shield is a recognized leader in the premium wall coating industry, providing durable and long-lasting ceramic wall coating products.
Super Shield® Flat Roof System
The Super Shield® Flat Roof System is a bright white elastomeric roof coating offering substantial waterproofing and insulation benefits with excellent flexibility and tensile strength. It is specially formulated for the demands of a minimally sloped roof (no ponding water). The system is a 2-step process which starts with our Roof Primer, a highly adhesive waterproofing primer that adheres to virtually any roof material. We then apply our Flat Roof which is a ceramic acrylic elastomeric coating that is applied twice to create a 14 mil (DFT) barrier of leak protection and mold resistance. Also available is a zero slope roof system.
Good for:
Well-drained sloped roofs (minimum of one inch slope per two feet length)
Variety of roof materials: Asphalt, tile, aluminum, steel, copper, plywood, shakes, Styrofoam, concrete and clay
Benefits:
Extends roof life
Energy Star product
Easy to apply
Excellent flexibility
High tensile strength
Leak protection
Mold resistant
Lowers roof surface temperature
Request your free estimate for ceramic roofing coating in MI
If you're looking for a cost-effective alternative to roof replacement, contact Rhino Shield of Michigan to learn how Super Shield ceramic roof coating can benefit your home or commercial property. We are the trusted ceramic coating contractor in Dearborn, Clinton Township, Westland, West Bloomfield, Taylor, Southfield, Wyoming and surrounding areas.
Looking for a price? Get a no cost, no obligation free estimate.